MULTIPURPOSE PAVILIONS
For indoor sports disciplines, Alicante offers several multisport pavilions, such as the Technification Centre, that can welcome 5,000 spectators, or the Pitiu Rochel Municipal Pavilion, with a capacity for 1,800 people. Modern and complete facilities located in the largest sports area in the city, the "Monte Tossal" area, are the ideal complement for training and sports improvement. National and international events and competitions are held there.
MULTIPURPOSE PAVILIONS IN ALICANTE
Discover the wide range of activities that Alicante offers you in terms of multisport pavilions:

Changing Room


Gym


Press Room


Storage Room


Offices


Medicine cabinet


Multipuropose
Sports Court


Kiosk


Fencing
Area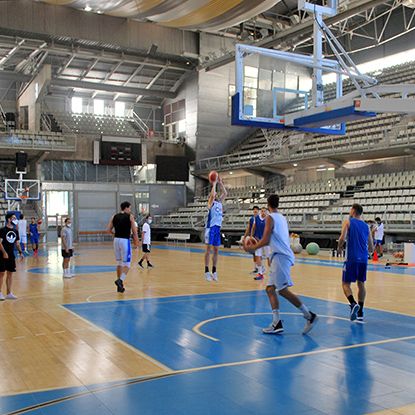 CENTRO DE TECNIFICACIÓN (TRAINING CENTRE)
The centre includes six specialised sports areas.
Central Grounds: With a capacity for 5,000 spectators, these grounds host different sports and cultural activities throughout the year. They are mainly intended for basketball, handball and indoor football.Annex Grounds: With a synthetic floor. These grounds cover 1,640 m2 (over 5,000 sq. feet) and are adapted to volleyball, rhythmic gymnastics, basketball, badminton and table tennis.
Tatami: Geared for sports such as judo, kung fu, kick-boxing, artistic gymnastics and capoeira. It covers a surface area of 400 m2 (4,300 sq. feet) and stands with a capacity for 300 people.
Multi-purpose room: With a surface area of 110 m2 (1,184 square feet) designed for archery, aerobics, maintenance gymnastics, karate, fencing and dancing.
Body-building room: A total surface area of 120 m2 (1,290 square feet) with an extensive layout of weightlifting machines.
Press room-VIP Area: With a capacity for 100 people, designed to hold events, meetings, seminars, press conferences or ballroom dances.
CENTRO DE TECNIFICACIÓN
C/ Foguerer Gilabert Davó s/n 03005, Alicante
Tel: (+34) 965 240 094 / (+34) 965 910 572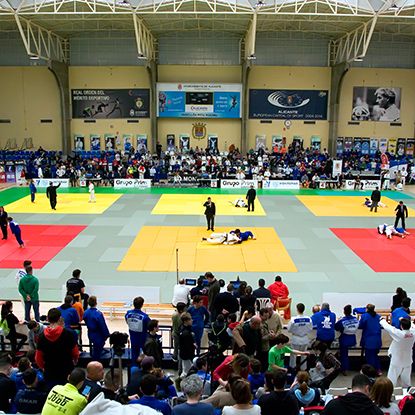 PITIU ROCHEL AND RAFAEL PASTOR MICÓ PAVILIONS
The indoor sports offer is complemented by the municipal pavilions: Pitiu Rochel and Rafael Pastor Micó. These are two, connected, modern and equipped facilities. They are also located in the Monte Tossal sports area, next to the Municipal Pools and the Athletics Stadium, and permit the practice of multiple sports disciplines, such as: handball, basketball, volleyball, judo or taekwondo.
PABELLÓN MUNICIPAL PITIU ROCHEL
C/ Foguerer José Romeu Zarandieta, 4 03005, Alicante
Tel: (+34) 965 252 024
SIZE: 47x32m
CAPACITY 1.868



PABELLÓN MUNICIPAL RAFAEL PASTOR MICÓ
C/ Foguerer José Romeu Zarandieta, 4, 03005, Alicante
Tel: (+34) 965 252 024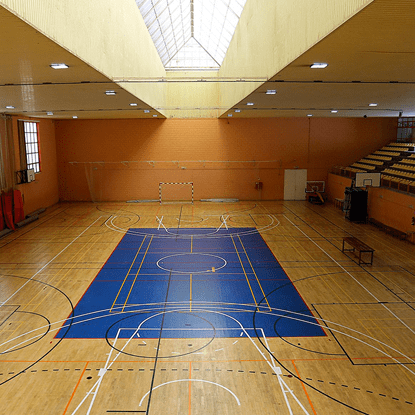 FLORIDA BABEL MUNICIPAL PAVILION
The Florida Babel "Vicente Crespo" Pavilion is a sports hall located on Calle Pianista Gonzalo Soriano in the city of Alicante. It owes its name to Mr. Vicente Crespo, a reference in the sports press in Alicante for more than 30 years.
It has a capacity for 511 spectators and its covered track has dimensions of 45 × 27 meters with parquet flooring. The building was built between 1985 and 1989 according to the project of the architects Jaime Giner Álvarez and Manuel Beltrá Martínez. It consists of three prisms with a regular plan: a circle-shaped lobby, gymnastics rooms in the shape of a rotated square and a rectangle that houses the courts and changing rooms under the stands. It also has 2 paddle tennis courts.
POLIDEPORTIVO FLORIDA BABEL
C/ Fernando Madroñal, 21, 03007, Alicante
Tel: (+34) 965 113 096


PABELLÓN CIUDAD JARDÍN
C/ Economista Germán Bernaceter,
03011, Alicante
Tel: (+34) 965 172 340